Now that fall is well underway, the holiday season has arrived, and one of the best parts of it is sharing sweet treats with friends and relatives. This time of year, our kitchens usually smell delicious – pumpkin, apple, cinnamon and spices bring about memories of holidays gone by and put us in a festive mood. One of our favorite memories was of our grandmother passing around a large bowl filled with homemade caramel corn. We'd always leave with a bag of it filled for each of us, and it was a special treat that she made only at the holidays.
We never met anyone who didn't like Grandma's caramel corn – it made the perfect hostess gift, and we'd festively decorate coffee cans and fill them with it as presents for our teachers and school bus driver. Everyone always appreciated it, and it was a rare occasion that someone didn't ask for her recipe. Grandma was pretty generous, so she usually had her recipe card on hand and shared it with whoever wanted it. We've decided to share her recipe with you, so that you can enjoy it as much as we have over the years.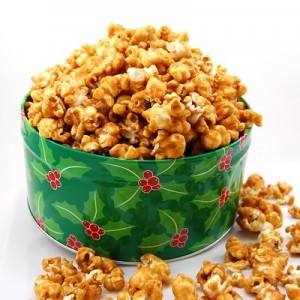 Grandma's Baked Caramel Corn
Ingredients
6 quarts popped popcorn (do not use microwave)
1 cup butter
2 cups firmly packed brown sugar
½ cup corn syrup (either light or dark)
1 teaspoon salt
½ teaspoon baking soda
1 teaspoon vanilla
Preparation
Preheat oven to 250 degrees F. Oil or spray a large roasting pan with vegetable oil or PAM, regular or butter flavor. Pour popcorn into the pan. In a heavy saucepan, slowly melt the butter; stir in brown sugar, corn syrup and salt. Bring to a boil stirring constantly. Boil without stirring for five minutes. Remove from heat and stir in baking soda and vanilla. Gradually pour the syrup mixture over popcorn, stirring to blend well. Bake for one hour, stirring every ten minutes. Remove from oven; let cool completely and break apart.
This recipe is simple, inexpensive and delicious, but it is so appreciated by those on your gift-giving list who love sweet, homemade treats. We think you'll love this recipe as much as we do! Be sure to stop into Charlie Johns grocery store for all the ingredients you need to make this yummy holiday snack – you'll find everything you need there, from the popcorn to the PAM to the roasting pan!