The next time you're planning a fishing trip to the Speculator region of the Adirondacks, pick up your fishing supplies from a Speculator department store, then consider spending the rest of your time on Piseco Lake, which offers the most accessible shoreline in the region at 21.3 miles. Piseco Lake also features three DEC campsites with launch access, so there are plenty of camping accommodations as well.
The main species of fish inhabiting Piseco Lake include lake trout, whitefish and landlocked salmon. Annually stocked with lake trout and salmon, the lake is a prime ice fishing location. In the spring, the best catches of trout and salmon are taken by fishing the tributaries surrounding the lake.
Because of health benefits like high protein, high Vitamin D levels, and the presence of Omega-3 fatty acid, salmon has become one of the most sought-after fish by seafood lovers everywhere. But what is the difference between landlocked salmon, like those living in Piseco Lake, and Atlantic salmon? Essentially, there is little difference. Landlocked salmon have simply evolved a non-migratory lifestyle. When fishing for salmon (or any other fish in Piseco Lake), keep in mind that you should only take what you need, and practice catch and release with the others.
You'll find that salmon is the perfect fish for grilling and baking. Lemon pepper and dill seasonings are both popular choices, but have you ever considered… beer? Based on Sandra Lee's Beer Salmon, here's a simple recipe that you might want to try – it pairs salmon with one of the Adirondacks' most popular craft beers, Saranac.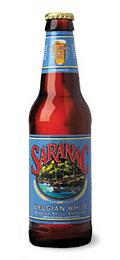 SARANAC SALMON RECIPE
1 ½ lb. salmon fillet
2 tsp. garlic salt
3 tbsp. brown sugar
4 tbsp. butter, cubed
1 small red onion, thinly sliced
1 12 oz. bottle Saranac Belgian White
2 large lemons, cut into wedges
Preheat your grill to medium-high heat. Create a rectangular cooking tray 13" x 8" x 2" that you can place directly on the grill. Center the salmon in the tray, and season with garlic salt. Sprinkle with brown sugar next, and then cover with butter cubes. Top with the sliced onion. Pour the Belgian White into tray just below the highest point of the fillet. (If there's any left, enjoy while the salmon is cooking!) Cover tray with aluminum foil, so that the fish is completely enveloped. Place tray on grill and cover. Grill for about 8 minutes, or until just cooked through. Garnish with lemon wedges. Serves 4-6.
When you come to Speculator on your next fishing trip, make sure to stop by Charlie Johns for all your needs. You'll find a wide variety of fishing goods, and when you're ready to prepare your dinner, we have everything you need, including a great assortment of fresh produce. Not to mention, we have a large walk-in beer cooler, always stocked with Saranac and all your favorite brands. We'll help make your catch of the day into a dinner they won't forget!