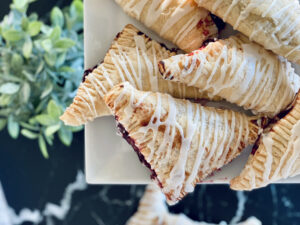 Have you ever been faced with unexpected guests and found yourself trying to come up with something tasty and quick for breakfast? While you can always offer your guests cereal or a pre-made baked good, you can easily impress them with a homemade treat that takes just minutes to prepare and tastes fresh from the bakery – cherry turnovers! And, they only require four ingredients!
Easy Cherry Turnovers
Ingredients
1 tube refrigerated crescent rolls
1 cup cherry pie filling (you can use other kinds, like apple or blueberry, if preferred)
½ cup confectioners' sugar
1-2 tbsp. milk
Directions
Preheat oven to 375ºF. Unroll crescent rolls and separate into four rectangles. Place on ungreased cookie sheet. Press any remaining perforations to seal.
Place ¼ cup of pie filling on ½ of each rectangle. Fold dough over filling and pinch edges to seal.
Bake 10-12 minutes, or until golden.
In a small bowl, mix confectioners' sugar and slowly add milk to reach a drizzling consistency.
Drizzle glaze over turnovers and serve warm.
Find the ingredients you need at Charlie Johns.
You'll be able to find all the ingredients you need for this recipe at Charlie Johns. Don't feel like baking? Visit our full-service bakery to find delicious baked goods, already prepared and ready to eat!