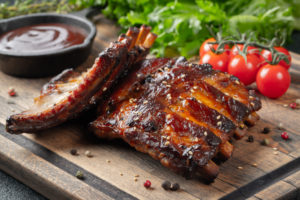 The Adirondacks is known for delectable maple syrup, but you should know it's for more than just pancakes. Maple has found a resurgence in popularity, and people today enjoy maple flavor in all sorts of treats, like coffee, baked goods and frozen confections. But maple syrup has also taken a place at the dinner table in recent years, with more and more people using its unique flavor to enhance their favorite recipes.
This month, we're sharing a recipe with you from Allrecipes.com for maple-glazed ribs. They're a delicious addition to your next get-together, and perfect for grilling. What's more, you can find all of the ingredients you need easily at Charlie Johns. And, when you visit our deli section, you can pick up some tasty salads, like potato, macaroni and coleslaw, which are perfect accompaniments. We hope you enjoy!
Ingredients:
3 lbs. baby back pork ribs
¾ cup maple syrup
2 tbsp. packed brown sugar
2 tbsp. ketchup
1 tbsp. apple cider vinegar
1 tbsp. Worcestershire sauce
½ tsp. salt
½ tsp. mustard powder
Directions:
Place ribs in a large pot, and cover with water. Cover the pot and simmer for one hour or until meat is tender. Drain, and place ribs in a shallow dish.
In a small saucepan, stir together the maple syrup, brown sugar, ketchup, vinegar, Worcestershire sauce, salt and mustard powder. Bring to a low boil and cook for five minutes, stirring frequently. Cool slightly, pour over ribs, and marinate in the fridge for two hours.
Prepare grill for cooking with indirect heat. Remove ribs from marinade. Return marinade to small saucepan, boiling for several minutes.
Lightly oil grill grate. Cook ribs for 20 minutes, basting with the cooked marinade frequently.
If you like this recipe, you may enjoy many of the other recipes we've shared on our website. Click here to visit our Recipes section, then come on down to Charlie Johns for all your grocery needs. We can't wait to see you!