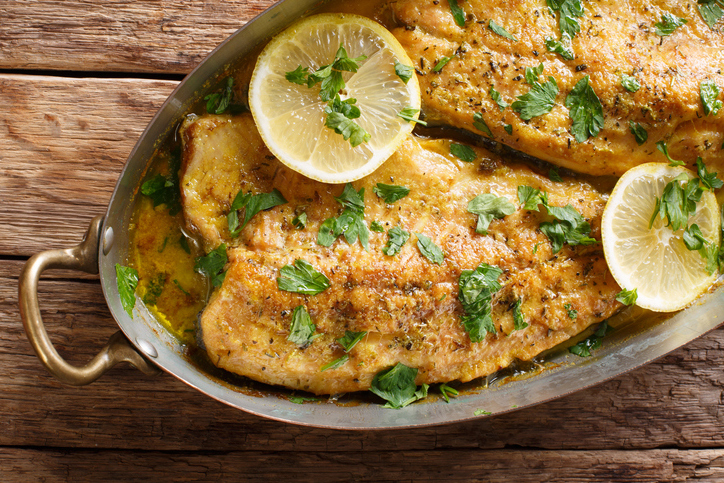 If you or someone in your family is an avid trout fisherman, then you probably enjoy fresh fish all summer long. But if you're tired of the usual pan-fried trout, why not try this great recipe? It gives your trout a little more pizazz by adding some acidity, along with herbs to enhance the flavor. What's more, aside from your catch of the day you can find the ingredients you need to create this recipe right at Charlie Johns!
Garlic & Lemon Trout
Ingredients
5 pounds trout (salmon works well, too)
2 tbsp. olive oil
1 tbsp. Italian seasoning
¼ tsp. salt (to taste)
4 minced garlic cloves
3 tbsp. lemon juice
2 tbsp. white wine
2 tbsp. butter (room temperature)
2 tbsp. fresh chopped parsley
Directions
Generously season top of filets with Italian seasoning and salt. You don't need to season the skin side.
Heat the olive oil in a large skillet. Add fish flesh side down and cook for 3-5 minutes over medium heat, until lightly browned. Flip over and cook skin side down for another 2-4 minutes. Add more olive oil if needed.
Remove skillet from heat and cover with lid. Let sit for 5-10 minutes, or until fish is flaky and cooked thoroughly.
After the fish is done, remove the filets to plate and separate the fish from the skin. Scrape any skin from pan, but leave cooking oils.
Add the garlic, lemon juice, and wine to pan with oil. Cook over medium-low heat for a minute, or until garlic softens. Remove from heat, and add 1 tbsp. of the parsley and the butter, stirring until butter melts. Add fish back to the pan, spoon sauce over the fillets, and sprinkle with remaining parsley.