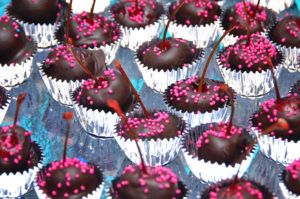 A special, romantic dinner doesn't have to take place at a restaurant. Sometimes, the best way you can show your significant other that you care is by preparing a love feast custom-tailored just for them. A beautiful table setting accompanied by their favorite meal and dessert is a wonderful way to show your love and can be just as memorable as an evening out at a fine dining establishment, if not more.
Preparing a meal for your loved one doesn't have to be a difficult undertaking. Looking up recipes and creating a list is the first step. Fortunately, you can find all the ingredients you need to cook up a love feast worth remembering right at Charlie Johns. From our meat department to our baking aisle, you'll easily be able to create their favorite dishes, right in your own home. And, if you're looking for a little something special to make for them, why not delight their taste buds with this chocolate covered cherries recipe?
With only a few ingredients, this recipe is simple to make, but sure to please. Give them a try – they're delicious!
Chocolate Covered Cherries
Ingredients
10 oz. jar maraschino cherries
4 tbsp. butter, softened
3 ½ cups confectioners' sugar
16 oz. chocolate chips
2 tsp. shortening
Directions
Drain cherries, reserving ¼ cup of the juice.
Place cherries on a paper towel and pat dry.
Place confectioners' sugar, butter, and 3 tbsp. of reserved juice in a bowl. Using a mixer, beat to combine until the mixture forms a dough.
If the mixture is too sticky, add 1 tbsp. confectioners' sugar at a time until desired consistency is reached. If the mixture is too dry, add 1 tsp. of cherry juice at a time until desired consistency is reached.
Cover bowl, refrigerate for 20 mins.
Take two tsp. of dough and flatten into a disc shape. Do this until all the dough is used.
Then, place one cherry in the center of each disc, and wrap dough around the cherry.
Place the dough-cherry balls on a baking sheet lined with parchment paper; freeze for 20 mins.
While the balls are chilling, melt the chocolate chips and shortening together in a microwave-safe bowl. Melt for 30-second increments until the chocolate is smooth.
Place one ball on a fork, using the fork to coat each ball in chocolate. Place the dipped dough-cherry ball on a sheet of parchment paper. Continue the process until all cherry balls are covered.