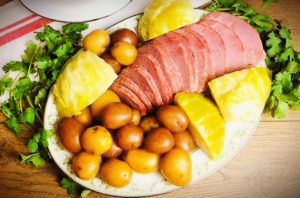 Perhaps the most popular symbol of St. Patrick's Day is the feast of corned beef and cabbage, but did you know that this was not always the case?
Historically, the Irish were too poor to afford beef (and often meat in general), and instead feasted on salted pork or lamb (which was much less expensive in 19th century Ireland than it is today) to celebrate the holy day of Saint Patrick. According to Smithsonian Magazine, it wasn't until Irish immigrants in North America, who settled near massive urban centers like New York City, could afford to buy kosher corned beef brisket from Jewish butchers that the dish of corned beef, cabbage, and potatoes became popular.
So this St. Patrick's Day, celebrate like the Irish and step away from the corned beef with the more traditional Irish feast of boiled bacon and cabbage.
Irish Bacon and Cabbage
Ingredients
3-4 pounds Irish boiling bacon (pork shoulder is fine, see note

)

1 head of cabbage (trimmed, cored, and quartered)

4 cloves of garlic (peeled)

2 medium onions (peeled and quartered)

4 carrots (cut into two-inch chunks)

3 bay leaves

Boiled Yukon potatoes

4 tablespoons of butter

Salt and pepper (to taste)
Directions
Place boiling bacon, garlic, onions, and carrots in a large stockpot. Cover with water. (

If using unsalted pork shoulder, add salt at this point).

Bring to a boil over medium-high heat. Add bay leaves, reduce heat to medium-low, and cover.

Simmer for 1-2 hours or just until the bacon is cooked through and fork-tender (about half an hour per pound of pork).

Once the pork is fork-tender, add prepared cabbage and cook for an additional 20 minutes or until cabbage is tender, but not wilted.

Remove pork from pot and transfer to a serving platter, leaving pork to rest for 10 minutes. Strain carrots, onions, and cabbage discarding bay leaves and garlic.

Transfer vegetables to a serving bowl and toss in butter, along with salt and pepper to taste.

Slice rested pork in ¼-inch slices, and serve with vegetables and boiled potatoes.
You can find everything you need to make a delicious St. Patrick's Day feast and more at Charlie Johns in Speculator, NY. We are open from 8 am to 8 pm Monday-Saturday, and 9 am to 6 pm Sunday. Call us at (518) 548-7451 for more information. From all of us at Charlie Johns, have a safe and happy St. Patrick's Day!