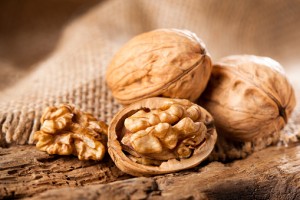 It's the holiday season, and that means your friends and family are likely to stop by for gift exchanging and good cheer. If you'd like to be prepared for these little get-togethers, it's a good idea to have a variety of beverages and snacks on hand throughout the holiday season, so that when your guests arrive you will be able to show them warmth and hospitality – without a lot of effort.
Have a couple of different wines on hand, and stock your fridge with a variety of craft beers (have you checked out the offerings available in Charlie John's extensive beer cave?) and sodas. Cheeses, hard salami, pepperoni and crackers are always appreciated as well. Setting out a tray of homemade cookies and a bowl of delicious nuts is also welcome. If you're looking for a unique nut recipe to share with your guests, we'd like to share with you our recipe for Sugar and Spice Walnuts, perfect to set out for snacking or to give as a gift!
Sugar and Spice Walnuts
Ingredients
½ cup butter, melted
3 large egg whites
1 cup granulated sugar
1 tsp. ground apple pie spice (or ½ tsp. cinnamon, ¼ tsp. nutmeg and ¼ tsp. allspice)
4 cups walnut halves
 Directions
Preheat oven to 350 degrees Fahrenheit. Prepare a large baking sheet with aluminum foil. Pour the melted butter onto the lined baking sheet. In a large bowl, mix together the egg whites, sugar and spice. Add the walnut halves, tossing until they are completely coated with the mixture. Spread the walnuts onto the baking sheet. Bake for 30 minutes, stirring the walnuts every 10 minutes. Cool on the baking sheet for 10 to 15 minutes before transferring to storage or serving container.
You won't have to worry about your holiday entertaining needs when you visit Charlie Johns. There, you'll find the grocery items you need to keep your guests happy, including the ingredients for this recipe. Make sure to stop by the store and see how we can help you with all of your holiday baking and cooking needs.