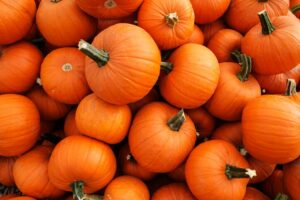 October is the month for pumpkins. They can easily be found pretty much anywhere, from roadside pumpkin patches to your local grocery store. Because they are so readily available, this is a great time to make some pumpkin puree that can be used later for your holiday baking needs. In this article, we'll give you some tips for picking the perfect baking pumpkin and share a recipe for pumpkin puree that can keep for months in the freezer!
Baking Pumpkin Picking Tips
Baking pumpkins are different from varieties used for Jack-o-Lantern carving. They are much smaller and fleshier while carving pumpkins are usually watery and have stringy flesh. Look for pumpkins labeled as sugar, sweet, or pie. Long Island Cheese pumpkins – named as such because they look like a wheel of cheese – are also a great baking pumpkin.
Also, a word of caution – never use carved Jack-o-Lantern pumpkins for baking. Discard them once their Halloween duty is done, because their empty insides are a perfect place for bacteria and fungus to grow. Not to mention squirrels, chipmunks, mice, some birds, and even the occasional amphibian like to pop in and out of a carved Jack-o-Lantern, either for a quick nibble or temporary shelter.
Perfect Pumpkin Puree
Now that you know which pumpkins to pick, here's a great recipe that will make your pumpkin desserts the star of the show this holiday season.
You Will Need:
1 small baking pumpkin (4-6 lbs.)
Fine sea salt
Instructions:
Heat your oven to 400° F and line a cookie sheet with parchment paper.
Rinse and dry your pumpkin thoroughly. Cut the pumpkin from stem to end. (Don't try to cut through the stem – it is too tough.) When the pumpkin has been cut through, pull it apart.
Scoop out the seeds and stringy bits (you can roast the seeds for a treat later) and then sprinkle the pumpkin halves with sea salt. Bake until the flesh can easily be pierced with a knife and is beginning to pull away from the pumpkin shell, between 45 to 60 minutes.
Cool for as long as needed until you can safely handle the pumpkin. Scoop the cooked flesh into a food processor or blender. Depending on the size of the food processor/blender and pumpkin, you may need to do this in two batches. Blend for about 3-5 minutes or until pumpkin is very smooth.
Store:
If you plan on using the pumpkin puree right away, you can store it in your refrigerator for up to a week in an airtight container. Otherwise, store in airtight containers in the freezer for up to 3 months.
Visit Charlie Johns for your pumpkin baking needs.
At Charlie Johns, we can help you find the right baking pumpkin, as well as all the other ingredients you'll need to make pies, quick breads, and more. Just stop in and see what we have in store for you!