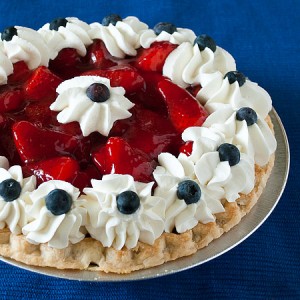 If you're planning a July 4th get-together with friends or family, you're probably planning a cookout or picnic. Planning for that is the easy part – burgers, hotdogs, chips and salads are easy to prepare and just about everyone likes them. But if you're looking for a delicious dessert offering that is a little different than cookies or cupcakes, why not try this recipe for Red, White & Blue Berry Crème Pie from Taste of Home? It's simple to make, but will look like you spent hours baking, and it's filled with the delectable flavor of summer berries.
You Will Need:
For the Crust
Berry Layer
1 ½ cups sugar
¼ cup plus 1 ½ tsp. cornstarch
1 ½ cups water
¼ cup plus 1 ½ tsp. raspberry gelatin
1 pint fresh or frozen unsweetened blueberries
1 tsp. lemon juice
1 pint fresh or frozen unsweetened raspberries
Crème Layer
4 oz. cream cheese, softened
1/3 cup confectioners' sugar
1 ¾ cups whipped topping
Directions:
For the berry layers, combine sugar, cornstarch and water in a medium saucepan, stirring to dissolve. Cook until thick and clear. Add gelatin and stir until dissolved.
Divide mixture in half. Stir blueberries and lemon juice into half of the mixture and spread over bottom of baked pie shell. Refrigerate. Fold raspberries gently into remaining half of mixture and set aside.
For crème layer, beat together cream cheese and confectioners' sugar until smooth. Mix in the whipped topping and spread over blueberry layer. Refrigerate until set. Carefully spread raspberry layer over crème layer. Chill for at least four hours before serving. Makes 8 servings.
To find all the ingredients you need to make Red, White & Blue Berry Crème Pie, as well as all the other fixings for your July 4th get-together, just stop by Charlie Johns in Speculator, N.Y.