When you see photos of those beautifully adorned holiday hams, you might think that while these hams are definitely a lovely centerpiece, they're also probably a lot of fuss. Not so, when you follow this delicious, simple recipe from everyone's favorite Southern cook, Paula Deen. This recipe calls for simple ingredients that you'll easily be able to find at Charlie Johns General Store, and will have your guests thinking you spent hours in the kitchen.
Paula Deen's Old Fashioned Holiday Glazed Ham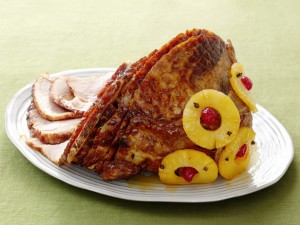 Ingredients
1 spiral-sliced half ham
1 20-ounce can pineapple slices, juice reserved
15 to 20 whole cloves (optional)
1 small jar maraschino cherries
3/4 cup packed light brown sugar
2 tablespoons yellow mustard
Directions
Preheat the oven as directed on the ham package and follow the instructions for baking the ham. Remove the ham from the oven about 30 minutes before the end of the warming time.
Decoratively arrange the pineapple slices on top of the ham, securing them with whole cloves, if using, or toothpicks. Place a cherry in the center of each pineapple ring and secure with a clove or toothpick.
In a small bowl, combine the brown sugar, mustard and just enough of the reserved pineapple juice to make a thick glaze. Spoon the glaze over the ham and bake for the remaining 30 minutes. Remove the ham from the oven, transfer to a cutting board and carve.
Don't forget to visit Charlie Johns for everything you need to make this delectable ham, as well as all of your other holiday dinner needs.