The image of the moose is about as Adirondack as you can get. Whether you live in Speculator or just enjoy visiting, you're sure to have noticed images of moose everywhere – and quite possibly, you've even seen a real live one!
This year, how about bringing a whole herd of moose along with you to holiday parties? It's easier than you think, when you make these adorable moose cupcakes to share. This recipe comes from the Betty Crocker Big Book of Cupcakes, and they're as simple to make, as they are cute – and delicious. Here's what you'll need:
For the cupcakes: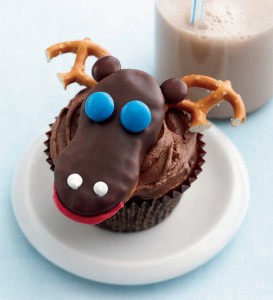 1 cup milk
1/2 cup vegetable oil
1 egg
11/2 cups all-purpose flour
3/4 cup granulated sugar
1/3 cup unsweetened baking cocoa
1 1/2 teaspoons baking powder
1/2 teaspoon salt
3/4 cup chopped maraschino cherries, well-drained
For the Creamy Chocolate Frosting:
4 ounces unsweetened baking chocolate
3 cups powdered sugar
1/2 cup butter or margarine, softened
2 teaspoons vanilla
1/3 cup milk
Decorations:
14 peanut-shaped peanut butter sandwich cookies (like Nutter Butter)
14 small pretzel twists, cut lengthwise in half
Red and white decorating icing (like Cake Mate tubes)
28 blue candy-coated chocolate candies (like M&Ms)
28 brown candy-coated chocolate candies (like M&Ms)
Heat oven to 375 degrees. Place a paper baking cup in each of 14 regular-sized muffin cups (or grease bottoms only of muffin cups with shortening.)
In a medium bowl, beat milk, oil and egg with fork. Stir in remaining cupcake ingredients except cherries until flour is just moistened. Stir in cherries. Divide batter evenly among muffin cups (cups will be almost full).
Bake 18 to 20 minutes or until toothpick inserted in center of cupcake comes out clean. Cool 5 minutes; remove from pan to cooling racks to cool.
Meanwhile, make Creamy Chocolate Frosting – microwave chocolate in small microwaveable bowl as directed on package until melted. Cool 10 minutes. Beat powdered sugar, butter, vanilla and milk in large bowl with electric mixer on low speed until smooth. Gradually beat in melted chocolate until well blended.
After making frosting, place 1/2 cup frosting in a small microwaveable bowl. Microwave uncovered on High 5 to 10 seconds or until melted and can be stirred smooth. Dip tops and sides of peanut butter cookies in melted frosting; place on waxed paper until hardened, about 15 minutes.
Frost cupcakes with remaining frosting. Press one coated cookie onto each cupcake so cookie extends over edge of cupcake to look like snout of moose. Poke 1 pretzel half into each cupcake, behind cookie, for antlers. Use white decorating icing to pipe on nostrils. Use red decorating icing to pipe on mouths. Attach blue candies for eyes and brown candies for ears.
You can find the ingredients you need to make these and any other holiday treat you can imagine right at Charlie Johns. From flour and eggs to sugar and spice, visit Charlie Johns general store for holiday baking needs.