One of the tastiest offerings of the fall is the delicious variety of apples that abound during this season. From Macintosh to Honey Crisp, there are so many different types of apples readily available in New York State. While they're a tasty treat in and of themselves, there are countless recipes that call for apples, from sauces to baked goods to chutneys and more!
Of course, the holidays are right around the corner, too, so why not take advantage of fall's harvest in preparation of the gift-giving season? That's why we're sharing this recipe for honey apple cinnamon jelly – a perfect hostess gift at Thanksgiving, or a special holiday gift for the person who has everything.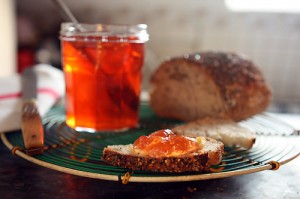 What's more, you'll find everything you need to make this recipe right at Charlie Johns General Store in Speculator – enjoy!
Honey Apple Cinnamon Jelly
5-6 lbs. apples
Honey
Whole cinnamon sticks
Wash apples. Remove stems and dark spots and quarter apples. Do not peel or core. Place in a saucepan and add enough water to half cover the apples. Cook until apples are soft. Skim off any foam. Drain using a jelly bag, or cheesecloth folded in thirds. (You'll get more juice if you squeeze the bag but then you risk a cloudy jelly.) Measure 6 cups of juice. Add about 1/2 cup honey for every cup juice. (As a rule, you'll want to use a lighter honey for the best flavor.) Boil honey and water until a good jelly test (220 degrees F.) is obtained. Pour into hot, sterilized half-pint jars, leaving 1/4 inch headspace, and seal. Process for 5 minutes in a boiling water bath.
Yield: 5 half-pints