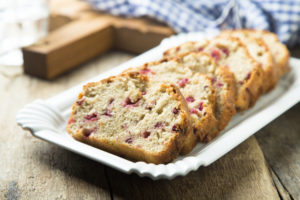 Whether you're having a dinner party, a family gathering or an office get-together, tasty quick bread is always an appreciated addition. Quick breads are easy to make and to serve, and usually disappear quickly! If you're looking for a departure from the usual quick bread recipes that call for bananas or zucchini, you're in luck.
Tasty raspberries are the star of this recipe from Mr. Food. You can use fresh or frozen berries, both available at Charlie Johns. Stop in for the ingredients in this recipe, and for all of your grocery needs.
Razzle-Dazzle Raspberry Bread
What you need:
+ 2 1/4 c. plus 2 tablespoons all-purpose flour, divided
+ 3/4 c. light brown sugar
+ 1/4 c. granulated sugar
+ 1 1/2 tsp. baking soda
+ 1/4 tsp. salt
+ 1 c. buttermilk
+ 1/2 stick butter, melted
+ 1 egg
+ 1/4 c. vegetable oil
+ 2 tsp. vanilla extract
+ 2 c. fresh or frozen (not thawed) raspberries
What to do:
Preheat oven to 350°F. Coat a 9- x 5-inch loaf pan with cooking spray.
In a large bowl, combine 2-1/4 cups flour, the brown sugar, granulated sugar, baking soda, and salt; mix well and set aside. In a medium bowl, whisk buttermilk, butter, egg, oil, and vanilla until combined. Add buttermilk mixture to flour mixture and stir just until combined.
In a medium bowl, combine raspberries and remaining 2 tablespoons flour; toss gently until berries are evenly coated. Fold berries lightly into batter. Spoon mixture into loaf pan.
Bake 55 to 60 minutes or until toothpick inserted in center comes out clean. Let cool 30 minutes then remove from pan to finish cooling.
Recipe from the Mr. Food Test Kitchen