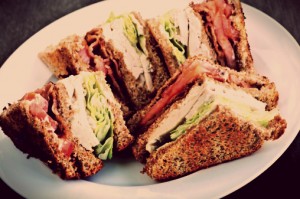 When November rolls around, almost everyone's mind turns to our fine (and delicious) feathered friend, the turkey. Nothing says Thanksgiving quite like a delectably browned bird on the table, as family and friends gather to enjoy the warmth – and the bountiful food – the holiday brings. But with every fabulous feast comes a slew of leftovers, and often that sought-after turkey becomes yet another dreaded concoction as the week progresses. We're here to tell you, though, that your turkey leftovers can be fabulous, with a little imagination and just the right extra ingredients.
A famous accompaniment to your turkey feast is cranberry sauce, and here's a recipe that combines the two Thanksgiving staples and brings fresh delicious produce and ever-popular bacon into the picture. Enjoy our recipe for a BLT club that kicks it up a notch and helps you make creative use of your Thanksgiving Day leftovers – the Day-After-Thanksgiving Bog Club Sandwich.
Day-After-Thanksgiving Bog Club Sandwiches
For the Cranberry Mayonnaise:
6 Tbsp. mayonnaise
2 Tbsp. cranberry sauce (jellied works best)
Squeeze of lemon juice
Freshly ground black pepper
For the Sandwich:
12 slices of thick-cut bacon, cooked
8 lettuce leaves, washed
2 large tomatoes, sliced
1 pound leftover turkey, sliced or shredded
12 slices of bread (we like country white for this), toasted
Whisk together cranberry mayo ingredients until smooth, set aside.
Toast bread and butter each slice. Layer toast, lettuce, turkey and cranberry mayo. Place second slice on top and layer with more mayo, three slices of bacon, lettuce leaf and tomato. Sprinkle with salt and fresh pepper, top with third slice of toast. Cut in half; secure each half with cocktail skewer topped with an olive. Serve with your choice of potato chips (we like salt and vinegar with this sandwich.)
You don't have to wait for Thanksgiving to enjoy this sandwich, though. You can get all the ingredients you need to make it today at Charlie Johns. From delicious, fresh produce, bakery breads and quality meats, we have what you need to whip up this delectable sandwich and much more.