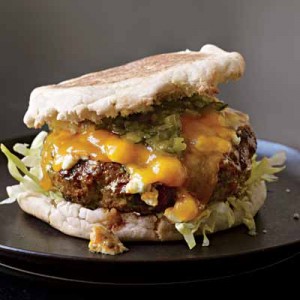 By the time August rolls around, chances are you've had more hamburgers than you'd like to imagine. If you're tired of the same old Plain-Jane burgers that you've had all summer, why not mix it up a bit and try this recipe for Adirondack Red Wing Burgers from Rachael Ray? Named for the now-defunct Adirondack Red Wing hockey team from Ray's hometown of Glen's Falls, these unique burgers will delight your taste buds.
What's more, you'll find all the ingredients you need for these burgers right at Charlie Johns. A true Adirondack General Store, Charlie Johns offers shoppers all the amenities of a big box store, right in the center of beautiful Speculator, N.Y. So bring this recipe with you – and let Charlie Johns and Rachael Ray bring some excitement to your next burger!
Rachael Ray's Adirondack Red Wing Burgers
Courtesy of Everyday with Rachael Ray Magazine, April 2010
Ingredients
2 tablespoons EVOO – Extra Virgin Olive Oil, divided
1 carrot, finely chopped
1 rib celery with leafy tops, finely chopped
1/4 cup finely chopped onion
2 cloves garlic, finely chopped
1 1/2 pounds ground turkey or chicken
2 tablespoons finely chopped fresh dill
1 teaspoon poultry seasoning
Salt and pepper
2 tablespoons butter
1/4 cup hot sauce
1/2 cup blue cheese crumbles
4 deli-sliced cheddar cheese
4 sandwich-size English muffins, toasted
1/4 head iceberg lettuce, shredded
1/4 cup pickle relish
Directions
In a small skillet, heat 1 tablespoon EVOO, 1 turn of the pan, over medium heat. Add carrot, celery, onion and garlic, and cook until tender, about 5 minutes. Transfer to a bowl and let cool. Reserve the skillet.
Mix the turkey, dill and poultry seasoning into the vegetable mixture. Season with salt and pepper. Form into 4 patties.
In the reserved skillet, heat the remaining 1-tablespoon EVOO over medium heat. Add the patties and cook, turning once, until firm, about 12 minutes. Transfer to a plate. Add the butter to the skillet to melt, and then stir in the hot sauce. Add the patties back to the skillet, turning to coat in the sauce. Top each with some of the blue cheese and a slice of cheddar. Tent with foil, turn off the heat and let stand until the cheese is melted.
Top each muffin bottom with some lettuce, a patty, some relish and a muffin top.