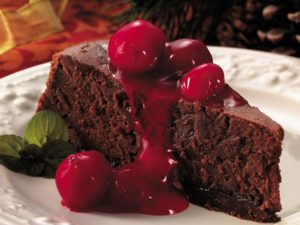 Looking for a deliciously decadent dessert to serve at your next dinner party? Then look no further than this recipe for chocolate cherry cheesecake. It's like three great flavors in one, and it's sure to be a crowd pleaser! The best part? It's simple! And, you can find all the ingredients you need right at Charlie Johns.
Ingredients:
1/2 cup Oreo cookie crumbs
3 tbsp. Melted butter
3 (8 oz.) pkg. softened cream cheese
1 (14 oz.) can sweetened condensed milk
2 cups semisweet chocolate morsels, melted
4 large eggs
2 tsp. Vanilla extract
1 (20 oz.) can cherry pie filling
Directions:
Combine the Oreo crumbs and melted butter, and press firmly into a 9″ springform pan.
Beat cream cheese on medium speed with an electric mixer until smooth and creamy. Add in the melted chocolate morsels and condensed milk, beating until smooth. Add eggs, one at a time, beating just until yellow of yolk disappears. Stir in vanilla, and pour mixture on top of crust in springform pan.
Bake at 300ºF for 1 hour and 15 minutes, or until set. Remove from oven and immediately run a knife around the sides of the cheesecake to loosen.
Cool completely on a wire rack.
Top cooled cheesecake with the cherry pie filling, cover, and chill for at least eight hours before serving.