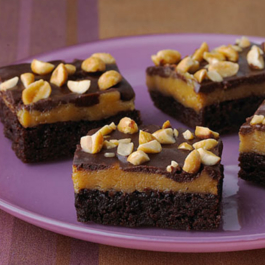 Once school starts back up again, chances are the kids will need to bring something in for a bake sale sooner or later! Brownies are always a favorite, so we're sharing a recipe from Kraft Kitchens for Triple-Layer Peanut Butter Brownies. Not only will you be able to find the ingredients you need at Charlie Johns, but you'll also find all the baking implements you'll need right in our Center Aisle! See the recipe below:
Triple-Layer Peanut Butter Brownies
Servings: 32
Prep Time: 15 Min.
Cook Time: 40 Min.
Chill Time: 1 hr.
What you need:
* 1 pkg. (19 to 21 oz.) brownie mix (13×9-inch pan size)
* 1 pkg. (3.4 oz.) JELL-O Vanilla Flavor Instant Pudding
* 1 c. cold milk
* 1 c. creamy peanut butter
* 1/2 c. powdered sugar
* 1-1/2 c. COOL WHIP Whipped Topping (Do not thaw)
* 3 oz. BAKER'S Semi-Sweet Chocolate
* 1/2 c. PLANTERS Dry Roasted Peanuts, coarsely chopped
What to do:
1. Prepare and bake brownies in 13×9-inch pan as directed on package; cool. Meanwhile, beat pudding mix and milk with whisk 2 min. Add peanut butter and sugar; mix well. Refrigerate until brownies are completely cooled.
2. Spread pudding mixture over brownies.
3. Microwave COOL WHIP and semi-sweet chocolate in microwaveable bowl on HIGH 1 min. or until chocolate is completely melted and mixture is well blended, stirring every 30 sec. Spread over pudding mixture; sprinkle with nuts. Refrigerate 1 hour.
Copyright © 2018 ShoptoCook™ Inc. Buffalo, NY