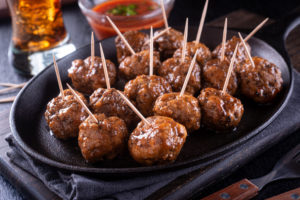 Do you have ground venison on hand, and are looking for a tasty appetizer to prepare for your New Year's Eve get-together? Then you'll want to try this delicious recipe for venison crockpot meatballs. These flavorful little bites are sure to be a hit – and we wouldn't be surprised if you have a few requests for the recipe!
Crockpot Venison Meatballs
You will need:
2 pounds ground venison
1 cup panko bread crumbs
2 eggs
1 tbsp. minced garlic
16 oz. blackberry or grape jelly
12 oz. chili sauce
¼ cup pineapple juice
¼ cup light brown sugar
Directions:
Add the venison, bread crumbs, eggs, and garlic together in a large mixing bowl. Using your hands, combine the ingredients until mixed thoroughly.
Make meatballs by scooping out a heaping tablespoon of the meat mixture, rolling it into a ball about the size of a golf ball. Place the meatballs in a baking dish, and bake in a 400º oven for 20 minutes. Let cool slightly before handling.
Place the cooked meatballs in the bottom of the crockpot. Once all the cooked meatballs are placed in the crockpot, add the jelly, chili sauce, pineapple juice, and brown sugar.
Place the lid on the crockpot, set it to high heat, and cook for 2-3 hours, checking every hour and gently stirring. If you notice the meatballs are getting too hot, you can reduce the heat to low and continue cooking.
When done, turn off the heat and serve.
Note: If you don't have venison on hand, you can use one pound of ground beef and one pound of ground pork in place of the venison.