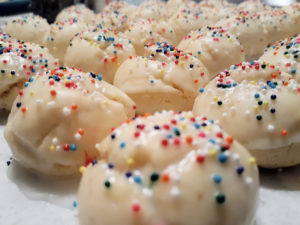 If you're looking for a quick, easy holiday cookie recipe that is fun to do with the kids, look no further than Italian sprinkle cookies. They require just a few ingredients and are a pretty addition to any holiday cookie platter. And, you can find all the ingredients you need for these cookies right at Charlie Johns!
Italian Sprinkle Cookies
Ingredients
Dough:
2 ½ cups all-purpose flour
3 ¾ tsp. baking powder
¼ tsp. salt
2/3 cup shortening (melted and cooled)
1 cup confectioner's sugar
3 large eggs
1 tsp. extract of your choice (such as almond, vanilla, or anise)
1 tsp. orange zest
Glaze:
2 cups confectioner's sugar
2-4 tbsp. milk
Topping:
Sprinkles or colored sugar of your choice
Directions
Preheat oven to 350ºF. Line baking sheets with parchment paper.
In small bowl, combine flour, baking powder and salt. Set aside.
In large bowl, beat together the melted shortening and the confectioner's sugar until fluffy. Beat in eggs one at a time until combined, then beat in extract and orange zest. Finally, beat in flour mixture until well-combined.
Using a cookie scoop (about 1 ½ tbsp), scoop dough, roll into balls, and place on prepared cookie sheets.
Bake for 10-12 minutes, or until just lightly browned on bottoms. Cool on wire racks.
While cookies are cooling, whisk together the confectioner's sugar and 2 tbsp. milk in small bowl. Add more milk as needed for a fairly thin glaze consistency.
Dip tops of cookies in glaze and add sprinkles before glaze sets. Allow glaze to set before storing.