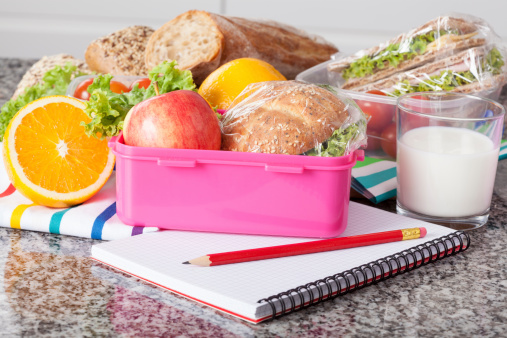 With back to school arriving shortly, you'll want to make sure your kids have a healthy, delicious lunch to tide them over throughout the day – one that's packed with nutrition, but not empty calories. According to the Cooking Light website, the best way to assure lunchtime satisfaction for your kids is to combine a lean protein with whole grains, fruits and vegetables, and then add a sensible treat. The recipe offered on the Cooking Light site that caught our eye was the Pita Pocketeer – which combines protein, fruits, veggies and dairy in a tasty way. Try it out with your kids this fall!
 The Pita Pocketeer:
Cooking Light Creamy Chicken Salad (1/2 cup; recipe to follow) with mixed greens in half a 6″ whole-wheat pita, plus 1 medium apple and 4 Hershey's Kisses on the side.
Creamy Chicken Salad:
Ingredients
2 pounds skinless, boneless chicken breast halves
1/2 cup light mayonnaise
1/2 cup plain fat-free Greek yogurt
1 tablespoon fresh lemon juice
1 tablespoon white wine vinegar
1 tablespoon Dijon mustard
1 teaspoon honey
1/2 teaspoon kosher salt
1/2 teaspoon freshly ground black pepper
1/3 cup chopped celery
1/3 cup sweetened dried cranberries
7 tablespoons (about 2 ounces) coarsely chopped smoked almonds
Preparation
1. Fill a Dutch oven two-thirds full of water; bring to a boil.
2. Wrap each chicken breast half completely and tightly in heavy-duty plastic wrap. Add the chicken to boiling water. Cover and simmer for 20 minutes or until a thermometer registers 165°. Remove from pan, and let stand for 5 minutes. Unwrap chicken and shred; refrigerate for 30 minutes or until cold.
3. Combine mayonnaise and the next 7 ingredients (through black pepper) in a large bowl, stirring with a whisk until combined. Add chicken, 1/3 cup celery, cranberries, and almonds; toss well to coat. Cover and refrigerate for 1 hour. Serve over salad greens, or as the stuffing for the Pita Pocketeer sandwich.
Don't forget, everything you need for the entire Pita Pocketeer lunch can be found right at Charlie Johns in Speculator – from the Greek yogurt for the sauce to the sweet Hershey's kisses for dessert.