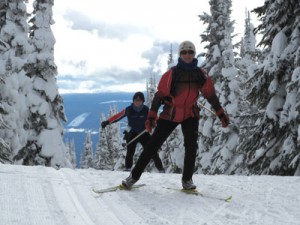 When you think of the Adirondack Mountains, you probably think of skiing. Without a doubt, the area in and around Speculator, N.Y. offers some of the most beautiful ski trails in the area. Whether you're simply headed up to Speculator for a day of cross-country skiing with the family, or you've planned a winter getaway someplace like the Lapland Lake Nordic Vacation Center, you're sure to find the perfect skiing adventure here.
Cross-country skiers visiting Speculator will enjoy a number of beautifully maintained trails, such as
The Kunjamuk Loop and the Lake Pleasant Nature/Ski Trail. For more intermediate cross-country skiers, trails around Piseco Lake provide a bit more challenge. Additionally, there are many ski tours available as well throughout the Adirondack region.
If downhill skiing is more your style, you won't want to miss what the Oak Mountain Ski Center has to offer. You'll enjoy 13 ski trails of varying levels of difficulty, and three lifts – one quad and two surface. Oak Mountain offers night skiing, lessons, equipment rentals and a lodge that offers beverages, cafeteria-style food, and free Wi-Fi. Oak Mountain also features the T-Bar, offering beer and wine and accessible by snowmobile.
Your Speculator skiing adventure won't be complete without a stop at Charlie Johns and Speculator Department Store. There, you'll find all the incidentals you might need to take along on your trip, like soups, sandwiches and beverages, as well as a great selection of outerwear from Columbia Sportswear. So whether you're planning a cross-country adventure, or headed out to the slopes for some downhill action, Speculator has everything you need to make your trip a memorable one.