The Adirondacks is an area of New York that's steeped in history and tradition. Many great works of literature about the Adirondacks from authors like Barbara McMartin and William J. O'Hern entertain locals and visitors alike. Additionally, there are many great books for children that discuss the wonderful flora and fauna that the area has to offer.
When you visit Charlie Johns, you'll find that we offer a comprehensive list of books written about the Adirondacks, from field guides and historical works to children's literature to ghost stories and fictional tales. In fact, we offer more than 300 book titles for you to choose from.
But that's not all you'll find in Charlie Johns' vast book section. We also carry: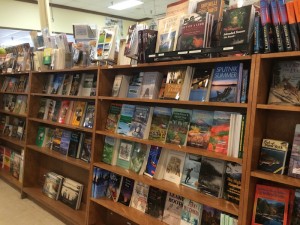 Maps
Trail guides
Stationery
Postcards
Greeting cards
Much more!
Be sure to take a few moments to browse our book section the next time you visit Charlie Johns. We're sure you'll find the perfect book for every reader on your list – and one (or two) for yourself!